Genus Escobaria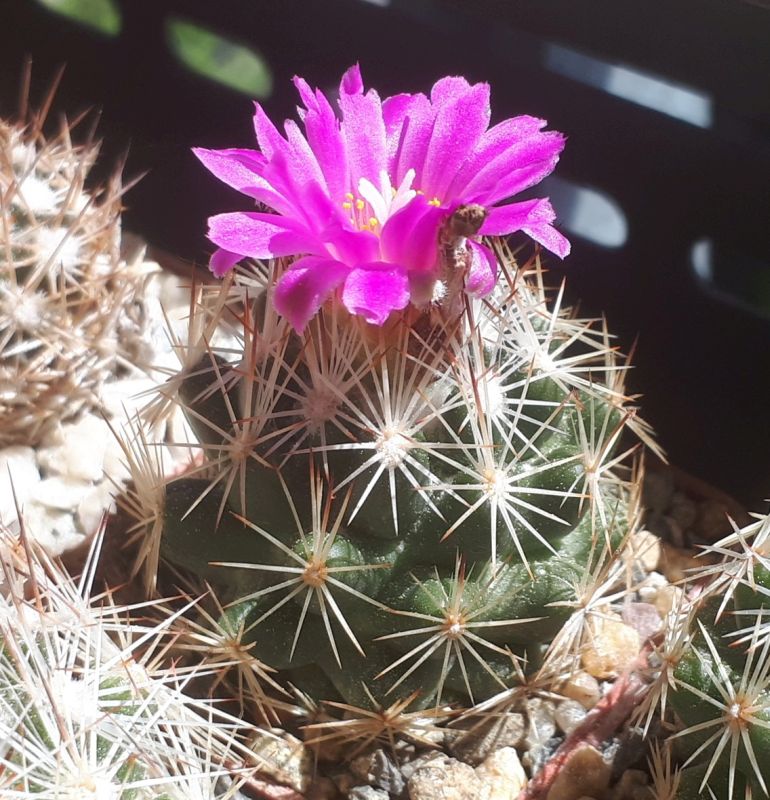 Escobaria hesteri subsp. grata W 46-88
Caberones, Coahuila, Mexico
photo and collection by Jan Mynar


Welcome to the website of genera

ACHARAGMA - ESCOBARIA - ORTEGOCACTUS ,

which is devoted to all friends of these genera.

The main aim of this website is:
- to collect and make accessible all available information regarding these genera,
- to facilitate the study of these genera in its entirety.


What is New:

---
January 16, 2023
Info - Zdenek Cervinka died


January 2. 2023
Discussion update
Distribution area of Escobaria tuberculosa subsp. varicolor - Chihuahua, Mexico
- Jan Mynar (CZ)


January 1. 2023
Discussion update
Distribution area of Escobaria tuberculosa subsp. varicolor - Chihuahua, Mexico
- Hans Havel (A), Jaroslav Snicer (CZ)


December 31, 2022
New Discussion
Distribution area of Escobaria tuberculosa subsp. varicolor - Chihuahua, Mexico
- Jan Mynar (CZ)


December 22, 2022
Discussion update
Roots of Escobaria chihuahuensis subsp. henricksonii
- Rudolf Moulis (CZ)


December 20, 2022
Discussion update
Roots of Escobaria chihuahuensis subsp. henricksonii
- Jaroslav Snicer (CZ), Vladislav Sedivy (CZ)


December 17, 2022
New Discussion
Roots of Escobaria chihuahuensis subsp. henricksonii
- Hans Havel (A), Jan Mynar (CZ)


October 18, 2022
Info - Jan Riha died

September 3, 2022
Discussion update
The interesting forms of Acharagma roseanum
- Jan Mynar (CZ)

July 16, 2022
Update of the page Gallery


June 20, 2022
Update of the page Division of Genera

Joël Lodé - Taxonomy of the Cactaceae. Volumes 1-2. 2015.
Division of Genera Acharagma, Escobaria, Neobesseya, Ortegocactus a Pelecyphora


June 20, 2022
Update of the pages Description of Taxa and Index of Synonyms.

January 24, 2022
Info - New article / new combinations:

Phylogenetic relationships in Coryphantha and implications on Pelecyphora and Escobaria (Cacteae, Cactoideae, Cactaceae)
Daniel Sánchez, Balbina Vázquez-Benítez, Monserrat Vázquez-Sánchez, David Aquino, Salvador Arias

A new article with a phylogenetic study of the genera Coryphantha, Pelecyphora and Escobaria was published in the PhytoKeys journal this year. Within this article, new combinations of taxa of the genus Escobaria into the genus Pelecyphora have emerged.
November 7, 2021
Update of the pages Catalogues.
Seeds 2021-2022:
Mrazuvzdorné kaktusy (CZ) - Cold-Hardy Cacti

October 30, 2021
Update of the pages Catalogues.
Seeds 2021-2022:
Kakteen Haage (D);
SuccSeed (S)

October 20, 2021
Update of the pages Catalogues.
Seeds 2021-2022:
Chrudimsky kaktusar (CZ);
Kaktusy a masozravky (CZ);
Klub kaktusaru Plzen (CZ);
Köhres Kakteen (D)

October 2, 2021
Update of the pages Catalogues.
Seeds 2021-2022: Gerardo.cz - Jaroslav Snicer (CZ); Hájek - kaktusy (CZ); Cactuspoint.cz - Jaromír Chvastek (CZ)

October 2, 2021
Info - A new publication:

Genus Acharagma (N. P. Taylor) Ch. Glass
Jan Mynar and Stefan Nitzschke

Language: German



February 7, 2021
Discussion update
Escobaria weberbaueriana
- Jan Riha (CZ), Jaroslav Snicer (CZ)

February 4, 2021
New discussion
Escobaria weberbaueriana



Part of unknown Escobarias

October 16, 2020
Info - Gabriel Veres died

February 15, 2020
Info - Online Publication:
Fritz Hochstätter - Escobaria Britton & Rose, 2016

The publication contains new combinations:
Escobaria missouriensis ssp. marstonii (Hunt) Hochstätter Comb. et stat. nov.
Escobaria orcuttii ssp. koenigii (Castetter et al.) Hochstätter Comb. et stat. nov.
Escobaria orcuttii ssp. macraxina (Castetter et al.) Hochstätter Comb. et stat. nov.
Escobaria vivipara ssp. kaibabensis (Taylor) Hochstätter Comb. et stat. nov.
Escobaria vivipara ssp. rosea (Hunt) Hochstätter Comb. et stat. nov.

January 9, 2020
Info - New Combination:
Acharagma galeanense (Haugg) J. Lodé, 2017