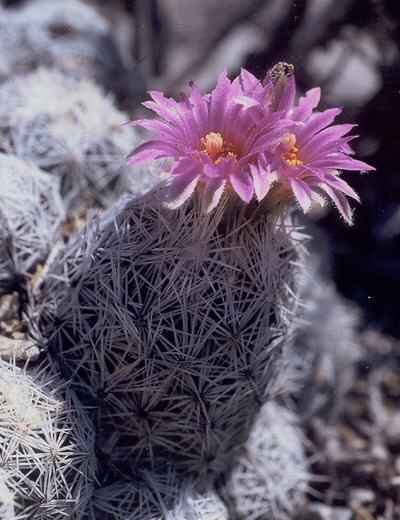 | | |
| --- | --- |
| Escobaria hesteri subsp. grata | |
---
| | |
| --- | --- |
| Genus: | Escobaria &nbsp Britton et Rose, 1923 |
| Section: | Escobaria &nbsp N. P. Taylor, 1983 |
| Species: | hesteri &nbsp (Y. Wright) F. Buxbaum |
| Subspecies: | grata &nbsp (Kaplan et all.) J. Luethy et R. Dicht, 2007 |
Synonyms

Escobaria grata M. Kaplan, L. Kunte, J. Šnicer, 2001

Distribution

Mexico (Coahuila) Monclova, Sierra el Burro, It grows on limestone hills at elevation about 1150-1200 m.; místo výskytu je pokryto nízkou ale místy poměrně hustou keřovitou vegetací


| | |
| --- | --- |
| Type locality: | Mexiko (Coahuila) Monclova, Sierra el Burro |
Description


Body:
a juvenile stem single, ovate, later slightly elongated up to 70 mm height and 40 mm thick, with several offsets at the base; a stem surface is divided by many closely presed warts up to 10 mm long and 5 mm thick at the base; the inner side of the wart has shallow, evident furrow 8 mm long tapering to the flower part of the areola at the base of the wart
Spines:
Radial spines:
lower spines are 4-6 mm long, upper ones are 10-14 mm long; upper spines near the plant apex are very dense and may look like middle spines; colour is grey-white with brown or black tip.
Spines start at the elliptical areola 1 mm long
Central spines:
no central spines
Flowers:
up to 30 mm in diameter and 20-25 mm in length; outer petals light pink, fuzzy at apex; inner petals in two central whirls, shiny mauve-violet, darker in the middle; stigma with five lobes, each light yellow; stamens numerous, anthers prominent yellow
Fruits:
round berry 10 mm big which dries out, it contains 30-40 seeds
Seeds:
30-40 in fruit, brown to brown-black seeds, 1 mm long; seed surface is covered by small pits
Latin diagnosis - original description


Escobaria grata &nbsp Kaplan M., Kunte L., Šnicer J. spec. nova
Corpus juventute simplex, ovatum, in státu adulto pauce caespitosum, oblongum vel paulo cylindricum, 70 mm altum, 40 mm crassum. Superficies corporis cum tuberculis multis obsita; tubercula dense aggregata, 10 mm longa, basim 5 mm lata, in partibus adaxialibus clare sulcata, sulcus 8 mm longus, ad partem floriferem areolae axillaris attingens. Areola elliptica 1 mm longa cum spinis tantum lateralibus cano-albis, apice fuscis usque nigrescentes, spinae in areolis superioribus 10-14 mm longae, inferiores 4-6 mm longae; spinea supernae in areolis terminalis densae spinis centralibus adsimulans. Flores 20-25 mm longi, usque ad 30 mm lati; perianthi phylla externa (apice) fimbriata, dilute roseola, interna biserialia, micante roseo-violacea, in parte centrali modo intensius colorata. Stigma quinquelobum, sulphureum. Stamina numerosa, antherae luteae. Fructus globularis, plus minusve 10 mm magnus, exsiccans, seminibus 30-40. Semina 1 mm magna, testa alveolata, castanea, castanea-nigra.
Floret in Maio Junioque.
Typus: Mexico, Coahuila, in collibus calcareis montibus Sierra el Burro ca 150 km situ septentrio-occidentali ab oppido Monclova; altitudine ca 1150-1200 m s.m., 10.4.2000 leg. J. Šnicer, V. Myšák, M. Kaplan, J. Bohata, M. Krejzlík, I. Krejzlík. Holotypus in herbario PR (Průhonice prope Pragam) sub no 11 515 asservatur.

Notes

Holotype is deposited at the type collection of Botanical Department of the National Museum in Průhonice near Prague (PR), indicated PR 11 515.

Druh byl objeven v roce 2000 pány Jaroslavem Šnicrem, Vojtěchem Myšákem, Milošem Kaplanem, Jaroslavem Bohatou, Milošem Krejzlíkem a Ivo Krejzlíkem.
Druhové jméno grata - půvabná, příjemná, milá - bylo vybráno podle překrásných květů.


Literature

Kaplan M., Kunte L., Šnicer J. (2001): Nový druh eskobárie ze severu Mexika - Escobaria grata Kaplan M., Kunte L., Šnicer J. spec. nova, Kaktusy, 37(2): 34-37.

Culture




Figure

Figure from Šnicer J.: Escobaria grata a objevování nových druhů, I.N.Cact.cz, 09/2004.
< Foto: Jaroslav Šnicer (2002) >.
Archiv Jan Mynář


---

Last modified August 3, 2008
[ Species and Varieties ] &nbsp [ HOME ] &nbsp