Coryphantha hesteri Y. Wright, sp. nov., Cactus and Succulent Journal (US), 4: 274, 1932.
---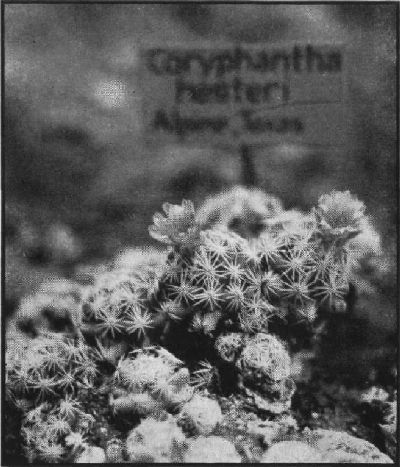 Coryphantha hesteri sp. nov.
Photo by John D. Wright


Latin diagnosis:


CORYPHANTHA HESTERI sp. nov. Ysabel Wright 1932. Simplex vel caespitosa, vertice subdepressa glabra aculeisque superata; mamillae ad 5 et 8 series ordinatae conicae sulcatae glandulisque deficientibus; axillis nudis; areolae orbiculares lanuginosae mox glabrescentes; aculei radiales 16-22 vitreoalbi rigidi 7-15 mm. longi superioribus longioribus fasciculatimque dispositis, centrales nulli. Flores parvi ovario viridescente segmentis exterioribus longe ciliatis, interioribus lanceolatis vel lineari-oblongis pallide purpureis; stylus flavidoroseus stigmatis lobis 4 gilvis. Fructus atque semen mihi ignoti.
Brewster County, Texas, J. P. Hester 1930.
Species inter Coryphantham arizonicam et Coryphantham deserti inserenda est, seriei Sulcolanatae.

Description:


Plant globose, 2.5-4 cm. high. Single or cespitose, forming clumps to 30 cm. in diameter. Young growth light green, when mature darker green to crusty gray. Apex subdepressed, naked, closed by the half-erect youngest spines. Axil of tubercles naked. Tubercles spirally arranged in 5 or 8 rows, conic, 7-12 mm. long, to 5 mm. in diameter. The groove along upper side of each tubercle extends from below areole to 1 or 2 mm. above axil of tubercle, naked, only on youngest tubercle a little tuft of white wool develops at base of groove. Areoles circular, 2-4 mm. in diameter, slightly white-felted, soon naked. Spines all radial, stiff, glassy white, youngest ones with slightly darkened, as if burnt, tips, 7-15 mm. long, upper ones longest. 14-16 spines are evenly spread, in addition a small bundle of 4-6 slightly weaker ones of the same color and length is formed at upper part of areole.
Flowers appear out of youngest axils of mature plants during May-June, lasting for 2 days in hot sun. Flower light purple, 2.3 cm. long, opens rotate-campanulate to 2.5 cm. wide. Ovary 4 mm. long, 4 mm. in diameter, bulbous, green to palest green at the base, tube 6 mm. long, widening to 7 mm. at upper end, greenish with 3 small finely ciliated scales. Outer perianth-segments lanceolate, long-ciliate, green. The larger upper ones are purplish-brown with lighter-colored, shortly ciliate margins. The 24 to 27 inner perianth-segments are slenderoblong to linear, 1 cm. long, 2 mm. wide, narrowing to 0.75 mm. at base, light purple; innermost segments of same color, slightly shorter and narrower. Filaments glassy white, 5 mm. long, attached on inside of tube, very sensitive; anthers bright chrome-yellow. Style slender, 13 mm. long, exserted beyond filaments, yellowish with faded pink tip, bearing 4 stout creamcolored stigma-lobes 1 mm. long.
Fruit and seed as yet unknown.
Type-locality: Near Mt. Ord, about 10 miles southeast of Alpine, Brewster County, Texas.
Distribution: Brewster County, Texas.
Discovered in 1930 by J. P. Hester.
The plant belongs in series Sulcolanatae, between C. arizonica and C. deserti.

Figs. Cactus Journal III, 84 (November 1931).
---

© 2002-2012 Jan Mynar
Last modified January 22, 2012